As Australia's largest public access golf resort boasting 45 holes, Yarrawonga Mulwala Golf Club Resort is more than a golfer's paradise. It is the perfect choice for your next holiday, wedding destination, conference or business stay. Long stay or short, guests can explore the spectacular surrounds, tempt their tastebuds with quality dining, workout in the gym, have a hit of tennis, take a dip in the solar-heated pool, relax with a massage, unwind with a book or go on a scenic walk taking in the beautiful Murray River and Lake Mulwala to the shopping precinct of Yarrawonga. Everything the resort has to offer is just a short stroll from your accommodation. With something for everyone, Yarrawonga Mulwala Golf Club Resort is your river resort oasis, an ideal recreation destination!
Evan Droop
Head Golf Professional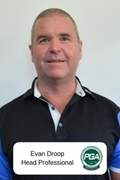 Evan completed his PGA Traineeship at Yarrawonga Mulwala Golf Club Resort under his father Phillip. After completing this Evan played the Tour of Australasia from 1992 until 1997 where he had several top 10 finishes with his most outstanding result being Tied 5th in The Malaysian Masters in 1992 and 5th in the New Zealand Open in 1994.
Craig Stickling
Club Professional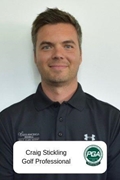 Craig completed his PGA Traineeship in South Africa in 2010 and is a fully qualified PGA Professional in Australia & South Africa. Craig brings loads of experience to the club as he managed Golf Operations at an elite golf estate in Johannesburg as well as managed and owned the Pro Shop & Driving Range.
Frazer Droop
Trainee Professional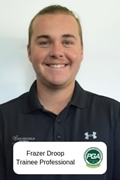 Frazer is currently completing his 2nd year of a 3 year PGA Traineeship under the watchful eye of his father & PGA Professional Evan Droop. Frazer had a successful junior and amateur career, playing in the World Youth Olympics, The World Callaway Juniors at Torey Pines, Aaron Baddley World Final in China and the Junior Pacific Cup in San Diego. Frazer had 12 wins in his 1st year as a PGA Trainee and was crowned Trainee of the year in 2017. Frazer is currently ranked no 1 in 2018.
Golf Club Road, Mulwala
03 57 443 983
Monday

Tuesday

Wednesday

Thursday

Friday

Saturday

Sunday

6:00am - 6:00pm

6:00am - 6:00pm

6:00am - 5:00pm

6:00am - 6:00pm

6:00am - 6:00pm

6:00am - 6:00pm

6:00am - 6:00pm